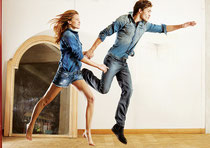 Wir begrüßen Mavi Jeans Deutschland als neuen Kunden für das Shopmusic Auracle Sound Musikstreaming System. Die Bandbreite der gewählten Musikrichtungen geht hierbei von Barhouse über Shopmusic Lounge bis hin zu Health&Happiness. Ein Sender der die Kauflaune der Kunden positiv beeinflusst und die Verweildauer im Shop erhöht.
Mavi Jeans
Mavi's philosophy is to build a brand around our customers while incorporating details true to the brand's Mediterranean spirit. Exotic and inspirational, Mavi, which means blue in Turkish, is known for high quality, superbly fitting premium denim.
Mavi's development from a denim brand to an full fashion collection for men and women has relied on one key strategy: The Perfect Fit. Be it using organic denim or incorporating the inspirations from travels around the globe, Mavi's mission is to fit not only the bodies of our customers, but their lifestyles as well.
Founded in Istanbul in 1991, Mavi jeans designs a full collection of denim and separates for men and women. Mavi sells to specialty stores, better department stores, and specialty chains in 50 countries including the United States, Canada, Turkey, Australian, Germany, England, Denmark, Italy, France and the Netherlands. Mavi has more than 200 retail stores with flagships in New York, Vancouver, Montreal, Istanbul, Berlin, and Frankfurt.